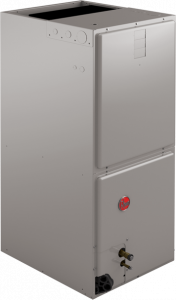 An Air handler is an electric furnace that has integrated cooling/heating coils that are normally installed in conjunction with a heat pump.
The primary function of an air handler is to distribute air throughout your home, heat your home in the winter, and dehumidify and cool your home in the summer. They usually are installed in homes with no natural gas or as auxiliary systems in a basement or room addition.
Just like there are different types of gas furnaces, there are also different types of air handlers.
A single speed air handler runs at the same fan speed all the time, and then there are variable speed air handlers that vary their output by demand.
A variable speed air handler runs off D/C (direct current) while a single stage air handler is powered by A/C (alternating current). The D/C driven variable speed air handler can be coupled with a humidity-sensing thermostat that allows enhanced dehumidification in the summer.  This type of system can remove 5-10% more moisture from your home than a standard single speed air handler.
An Air handler will typically have an auxiliary heating element that is installed by Total Comfort Heating & Air. These heating elements are available in different amounts of heat output depending on your needs.  The heating elements provide heat on cold days to supplement the output of the heat pumps
We provide Air Handler Sales & Installation as well as Service and Repairs to these Cities in the Chattanooga area: Apison | Avondale | Birchwood | Brainerd | Charleston | Chattanooga – Downtown | Chattanooga Metro | Cleveland | East Brainerd | East Lake | East Ridge | Fort Oglethorpe | Harrison | Hixson | Lookout Mountain | McDonald | Ooltewah | Red Bank | Ringgold | Saint Elmo | Sale Creek | Signal Mountain | Soddy Daisy | Tiftonia | University Of Tennessee Chattanooga | Walden's Ridge